The Department of Modern Languages and Literatures is pleased to announce our Virtual Artist in Residence.  This virtual opportunity gives up and coming artists the opportunity to share their work outside their usual environments, providing them added exposure.  MLL will spotlight artist's artwork on our website and in the marketing for MLL's Black Lives Matter Across the Globe Lecture Series. 
Virtual Artist in Residence
2020-2021 | Nancy Cepero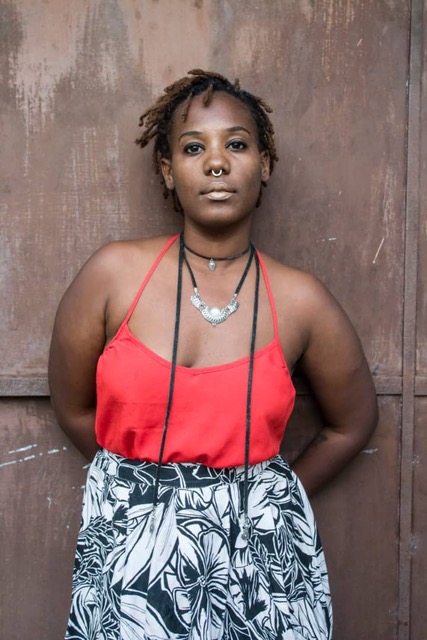 Biography in English 
Nancy Cepero is a Plastic artist born in Havana, Cuba in 1989. She graduated from the National Academy of Fine Arts San Alejandro in 2008. Nancy defines herself as an Afro-queer artist and artivist. She is interested in denouncing and combating discrimination by "creating beauty inspired by dark skin, natural hair and styles that identify us as black and queer people, as well as finding and promoting that dialogue between our bodies, nature and our ancestors." Nancy is currently in Cusco, Peru from where she continues to produce her Afrocentric work.
Biografía en Español
Soy una artista plástica nacida en La Habana, Cuba en 1989. Graduada de la Academia Nacional de Bellas Artes San Alejandro en 2008. Me defino como una artista y artivista afro- querer. Me interesa denunciar y combatir las discriminaciones creando belleza inspirada en la piel oscura, el pelo natural y los estilos que nos identifican como gente negra y también queer, así como también encontrar y fomentar ese diálogo entre nuestrxs cuerpos, la naturaleza y nuestrxs ancestrxs. Actualmente me encuentro en Cusco, Perú desde donde sigo produciendo mi trabajo de manera afrocentrada. 
World's Whisper 
Her work World's Whisper was chosen as the image for the 2020-2021 Black Lives Matter Across the Globe Lecture Series.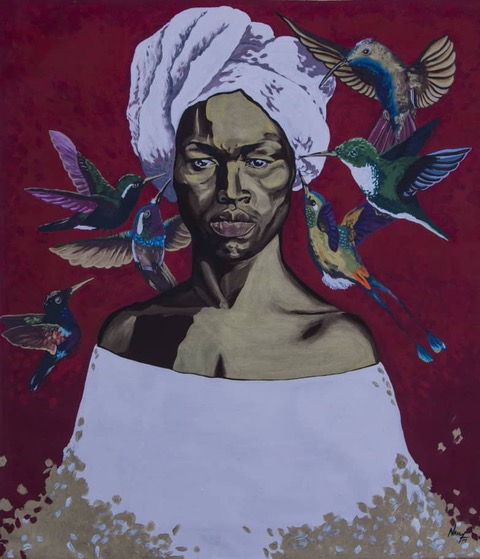 World's Whisper - Description in English 
Title of Work: World's Whisper 
Measurements: 1m x 1,10m
Technique: Acrylic on canvas
Year: 2019
 
Artist's commentary on the work:
This painting represents a black woman warrior, her look calls to the fight that is at the same time the messages that the universe, nature, wilderness, and the world are sending her through these hummingbirds messengers.  There are six birds, not by chance, but because six is the number of Changó, warrior deity symbol of fight in the Rule of Ocha Afro-Cuban religion.  At the same time the hummingbirds are a tribute to Seth, the character from Beloved by Tony Morrison.
Susurro del mundo - Descripción en Español
Título de la obra: Susurro del mundo
Medidas: 1m x 1,10m
Técnica: Acrílico sobre lienzo
Año: 2019
 
Comentario de la artista sobre la obra:
Este cuadrto representa a una mujer negra guerrera, su mirada llama a la lucha que es a su vez el mensaje que le está mandando el universo, la naturaleza, el monte, el mundo a través de estos colibríes mensajeros.  Los pájaros no son seis por casualidad; seis es el número de Changó, deidad guerrera símbolo de lucha en la Regla de Ocha, religión afrocubana. A su vez los colibríes son un homenaje a Seth, personaje de Beloved de Tony Morrison.
Contact Information