The 2022 Graduate Student Conference has been postponed till 2023 
February 2023 - to be announced 
---
2020 Graduate Student Conference 
SEEING MORE QUEERLY in the 21st Century
THE CHALLENGES OF GENDER, FEMINISM, AND QUEER THEORIES AND PRACTICES IN OUR CONTEMPORARY WORLD 
February 20 - 21, 2020
‌‌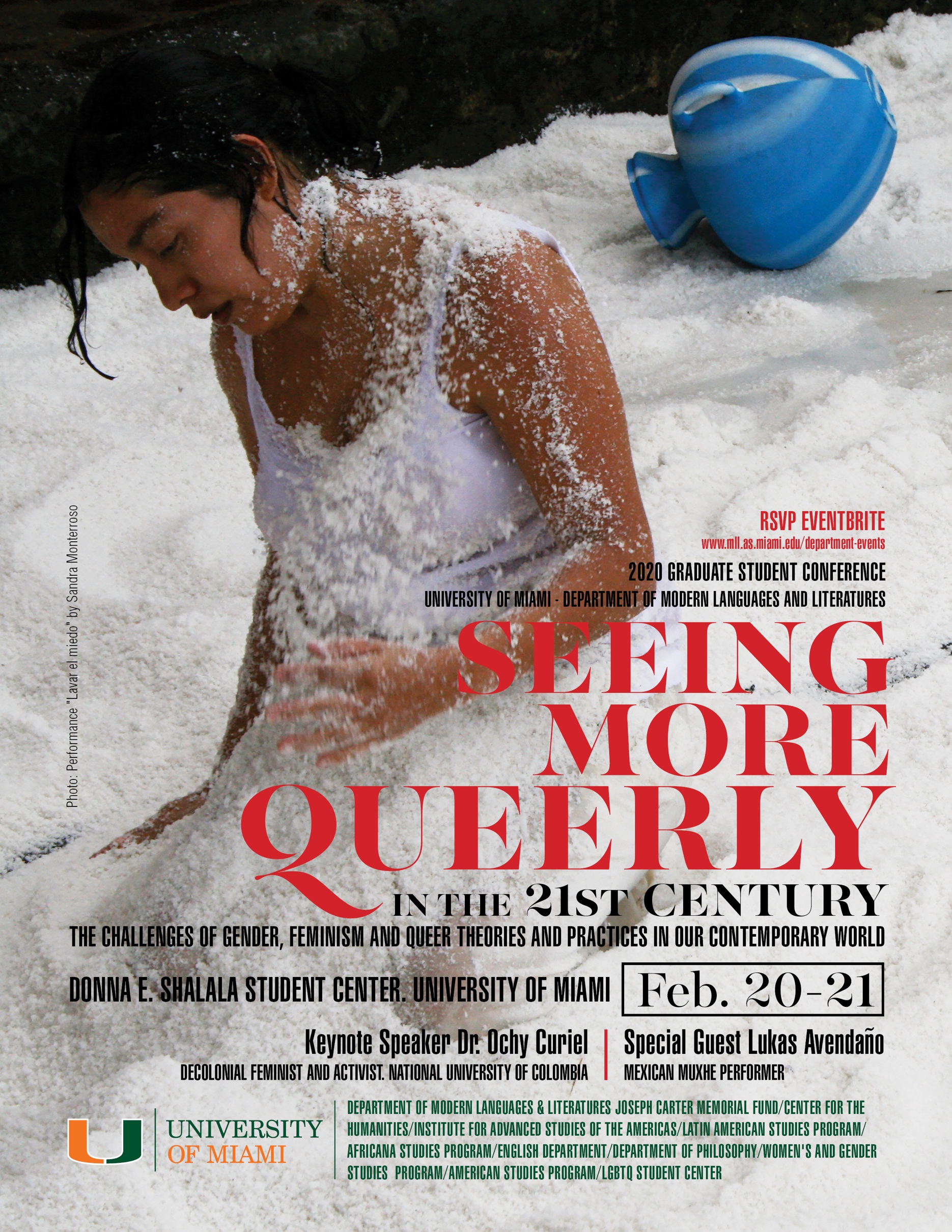 February 20‌, 2020 
Conference Opening Event | Norman A. Whitten Univeristy Center | 6pm
"Requiem for a Stone-Curlew," performance by Mexican artist Lukas Avedaño
February 21, 2020 
Donna E. Shalala Student Center | University of Miami | 8am-7pm
Keynote Speaker, Dr. Ochy Curiel 



---
RSVP

The MLL Annual Gradaute Conference is open and free to all members of the University of Miami and the general public.

To RSVP please visit 
---
Program 


Thursday, February 20, 2020 | Conference Opening Event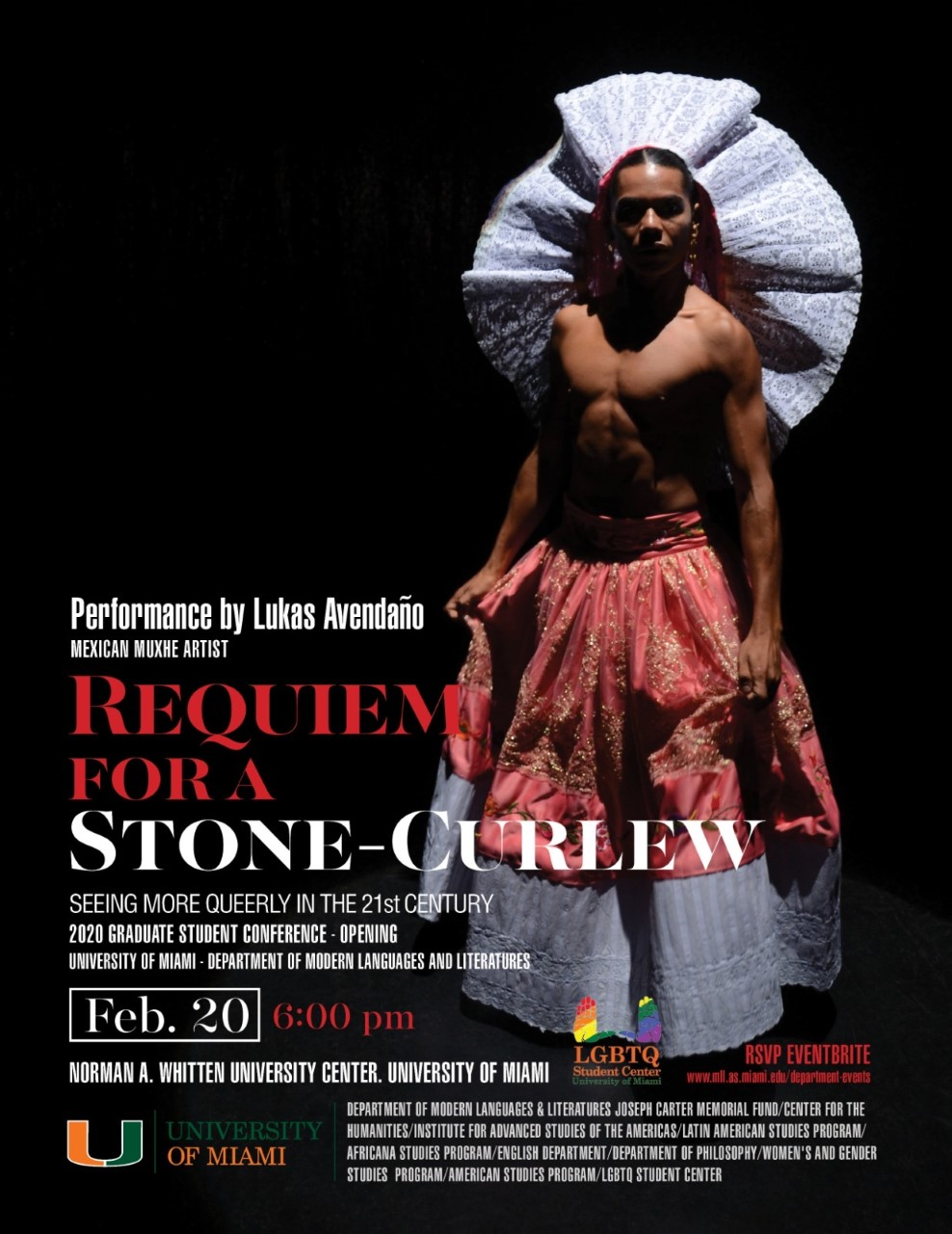 6pm

Welcome Remarks: Dr. Chrissy Arce, Director of Graduate Studies, Department of Modern Language and Literatures.

"Requiem for a Stone-Curlew,"

performance by Mexican artist Lukas Avedaño
Friday, February 21, 2020 | Donna E. Shalala Student Center- University of Miami 
8am
Registration and Coffee
8:30am-10:15am
Panel 1: 

Feminist Readings from a Decolonial Perspective in the 21st Century

Coordinator: Helen Hernández Hormilla

Discussant: Dr. Yolanda Martínez San Miguel, Chair of the Department of Modern Languages and Literatures 

Panelists:


Paulina M. Barrios Giordano (Rutgers): "Rethinking Decolonial Feminist Knowledge Production through Zines and Cartoneras"
Greice Markwith (Florida Atlantic University): "The Defect in the T-Shirt: Misappropriation of an acronym and symbols"
Miguel Ángel Blanco Martínez (Columbia University): "Feminist friendship as a decolonial alliance through the arts: A poetic conversation with Rebeca Lane's Alma Mestiza"

Break
10:25am-12pm 
Panel 2: 

Queerness, Space and Placemaking

Coordinator: Monica Faust

Discussant: Dr. Steve Butterman

Panelists:


Carmen Petaccio (University of Miami): "An Atlas of Feeling: The Transnational Subjects of Lana and Lilly Wachowski"
Cedric Courtois (University of Paris 1 Panthéon-Sorbonne) : "Queering Heterosexual Spaces in Britain and Nigeria: The Carving Out of Space by a Transgender character in When We Speak of Nothing by Olumide Popoola"
Christina Csensichl (University of South Florida) "Public Space and the Development of a Queer Community in Nineteenth-Century Paris"
Bobuq Sayed: (University of Miami) 'Between the Deep Blue, the City, and the Night: The Pier as Critical Interstice of Trans Fugitivity'

12pm-1:30pm
Lunch
12pm-12:30PM

Exhibition - Guided Tour

An Overview of the Lyceum Law Tennis Club Archive
Cuban Heritage Collection | Richter Library

1:30pm-2:45pm
Keynote Speaker: Ochy Curiel

"Encounters and Dis-Encounters in Decolonial Feminism and Queer Theory and Practices"

Introduced by Dr. Yolanda Martínez San-Miguel.
Break
2:50pm-4pm

Panel 3:


Intersectionality and Resiliency: "On Adversity We Thrive"

Coordinator: Helen Hernández Hormilla

Discussant: Cae Joseph-Massena

Panelists: 


Kerry Green (Arizona State University) "The Indexical Portrayal of Black Women in the Photography of Manuel González de la Parra's Luces de raíz negra"
Preston Taylor Stone (University of Miami): "Meta/Black Time: The Queer Formalism of Toni Morrison's Sula"
Alessandra Adorisio (Florida Atlantic University): Gender and Sexuality are Expressed in Southern Manabí Province, Ecuador.
Joao Gabriel (Johns Hopkins University): "Beyond queer and feminist "anti-racism" In Defense of Gender and Sexual Politics in Rupture with Western and Capitalist Hegemony"

Break
4:20pm-6:30pm
Panel 4:

Fluid Subjects/Splitting Bodies: the Trouble of Gender

Coordinator: Marivi Véliz

Discussant: George Yúdice

Special Guest: Lukas Avendaño

Panelists:


6:30pm
Closing Remarks
Dr. Chrissy Arce
   *program is subject to change
---
Call for Papers 
The Annual Graduate Student Conference of the Department of Modern Languages and Literatures at the University of Miami calls for papers focused on intersections of art, culture, sexuality and politics in the re-imagination of societies in our contemporary world. We invite academics, students, artists and activists throughout the world to think and debate about History, Culture, Art and Society from a gender and queer gaze. Possible topics include (but are not limited to): 
-Relations between Art, Performance and Activism surrounding the topic of gender
-Feminist and/or Queer Culture, Struggles, Movements, Activism and Solidarity in the 21st Century
-Role of Art in Gender and Queer reterritorialization
-Gender Studies as Interdisciplinary Consciousness and Imagination
-Institutions and Gender- Academia, Politics, Science, Media and Business
-Contributions and Challenges of feminist and queer activism and theories
-Gender Intersectionality
-Gender/Queer/Feminist Decolonial Thinking and Practice
-Transnational feminism and solidarity
Abstracts of no more than 500 words and art proposals such as performances or displays are welcome in English, Spanish, Portuguese, Creole or French. Please provide a short author bio with the abstract. Papers and presentations may be delivered in the language of your choice. The Conference will take place February 21, at the University of Miami in Coral Gables, Florida.
Submit proposals before December 15, 2019 directly to: mllgraduateconference@gmail.com
Official Call for Papers Letter
---
This event is sponsored by the Department of Modern Languages & Literatures Joseph Carter Memorial Fund, Center for the Humanities, Istitute for Advance Studies of the Americas, Latin American Studies Program, Africana Studies Program, English Department, Department of Philosophy, Woman's and Gender Studies Program, and Latin American Studies Program.