Casey | April 5, 2021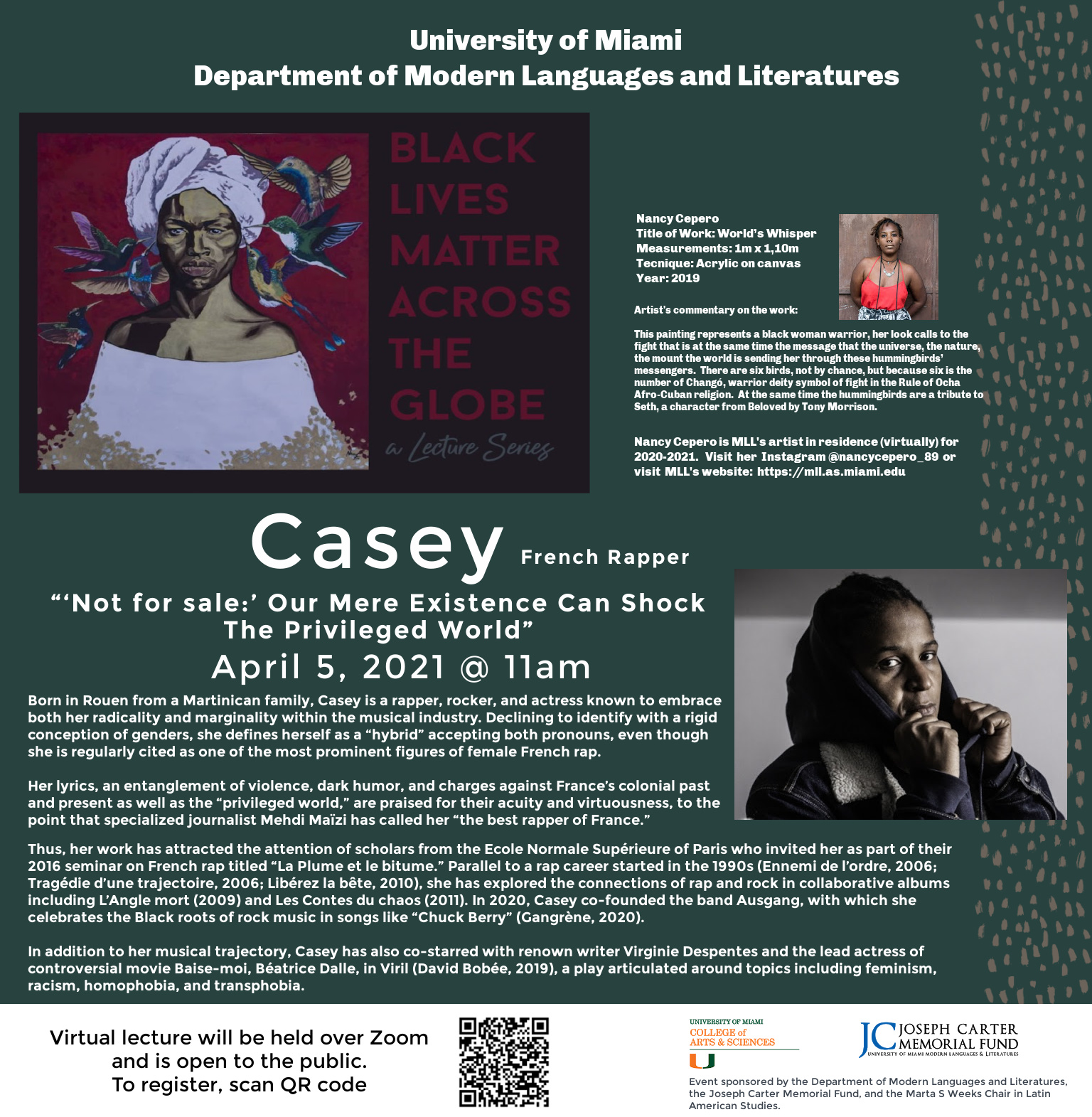 Born in Rouen from a Martinican family, Casey is a rapper, rocker, and actress known to embrace both her radicality and marginality within the musical industry. Declining to identify with a rigid conception of genders, she defines herself as a "hybrid" accepting both pronouns, even though she is regularly cited as one of the most prominent figures of female French rap.  

Her lyrics, an entanglement of violence, dark humor, and charges against France's colonial past and present as well as the "privileged world," are praised for their acuity and virtuousness, to the point that specialized journalist Mehdi Maïzi has called her "the best rapper of France." Thus, her work has attracted the attention of scholars from the Ecole Normale Supérieure of Paris who invited her as part of their 2016 seminar on French rap titled "La Plume et le bitume." Parallel to a rap career started in the 1990s (Ennemi de l'ordre, 2006; Tragédie d'une trajectoire, 2006; Libérez la bête, 2010), she has explored the connections of rap and rock in collaborative albums including L'Angle mort (2009) and Les Contes du chaos (2011). In 2020, Casey co-founded the band Ausgang, with which she celebrates the Black roots of rock music in songs like "Chuck Berry" (Gangrène, 2020). 

In addition to her musical trajectory, Casey has also co-starred with renown writer Virginie Despentes and the lead actress of controversial movie Baise-moi, Béatrice Dalle, in Viril (David Bobée, 2019), a play articulated around topics including feminism, racism, homophobia, and transphobia.
Lecture will be held on Zoom. Pre-Registration is required.

To register, click here. 
---
Maboula Soumahoro | February 19, 2021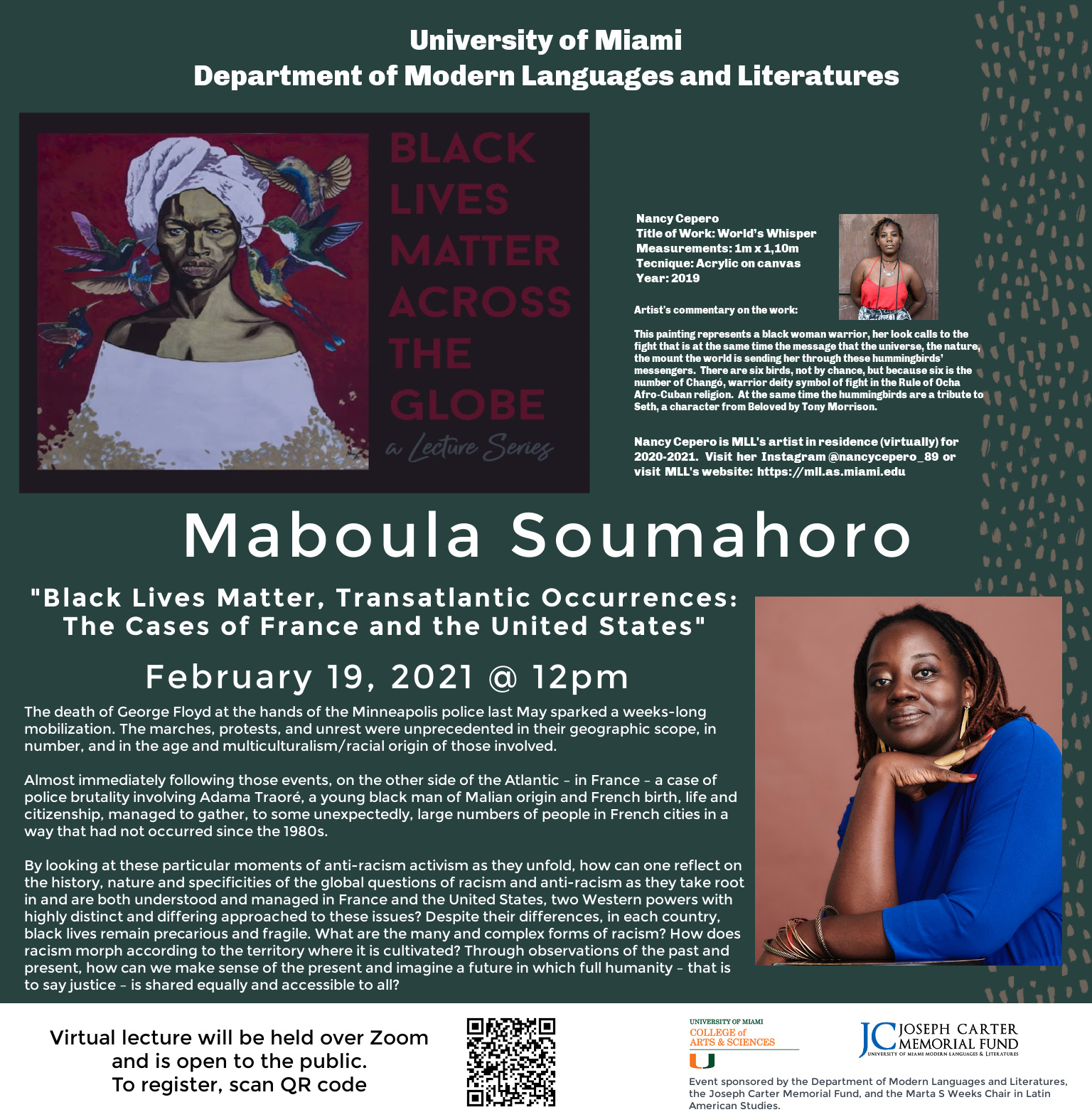 Dr. Maboula Soumahoro is an associate professor in the English department of the University of Tours, France, where she also received her PhD. A specialist in the field of Africana Studies (Atlantic), Dr. Soumahoro has conducted research and taught in several universities and prisons in the United States and France: Bennington College, Columbia University (New York and Paris), Barnard College, Bard Prison Initiative (Bayview Correctional Facility), Stanford University (Paris), Sciences Po (Paris and Reims), the prisons in Bois-d'Arcy, Villepinte (juvenile detention), and Fresnes.

From 2013 to 2017, Dr. Soumahoro served as a member of the National Committee for the Memory and History of Slavery. Since 2013, she is also the president of the Black History Month (BHM), an organization dedicated to the celebration of Black history and cultures throughout the world.

Dr. Soumahoro was awarded the FETKANN! Literary Prize for her book Le Triangle et l'Hexagone, réflexions sur une identité noire (Black is the Journey, Africana the Name, La Découverte, 2020).
Lecture will be held on Zoom. Pre-Registration is required.
To register, click here. 
---
Conceição Evaristo | November 13, 2020 
This event has passed.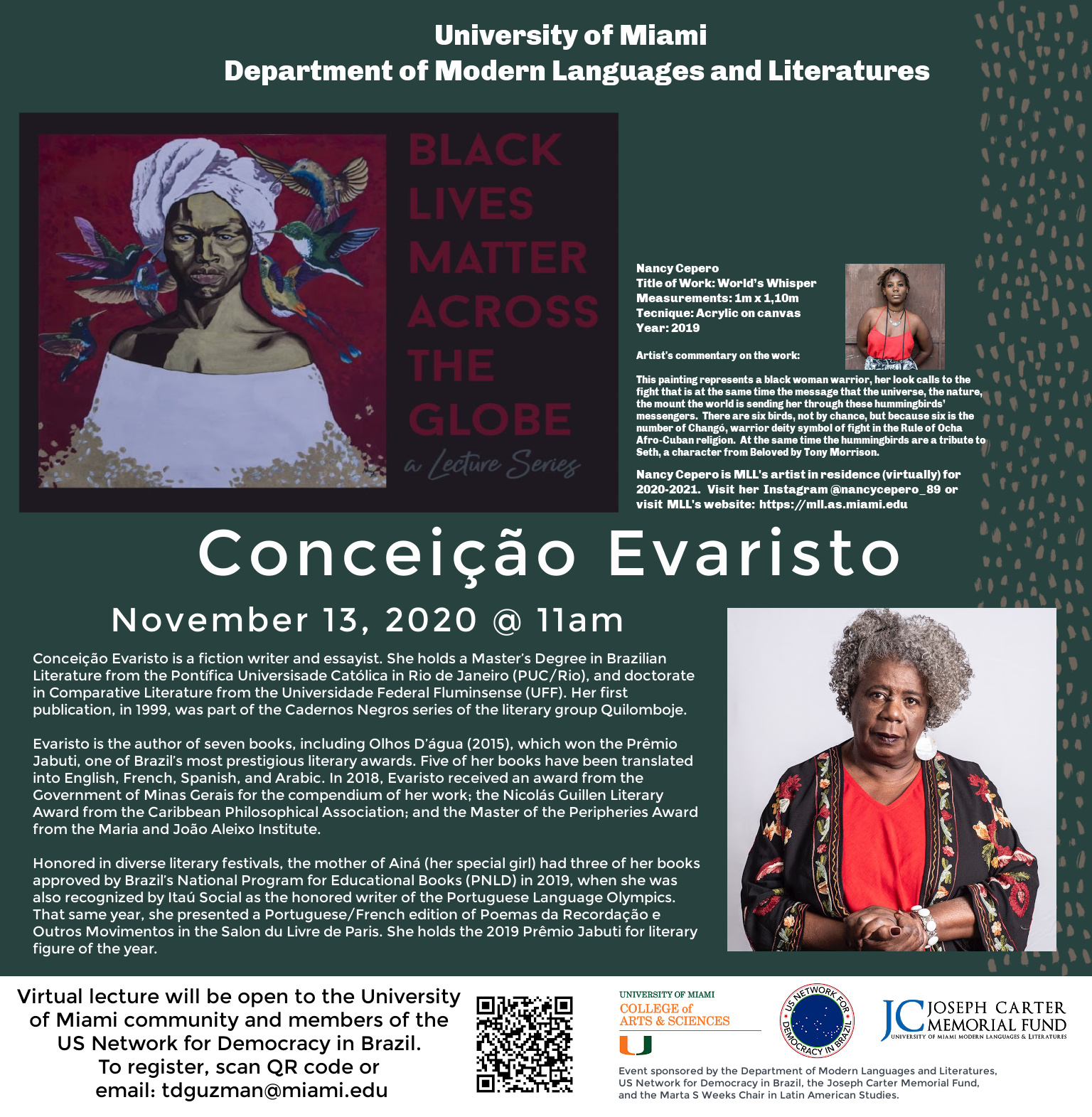 Lecture will be held on Zoom.  


---
Dr. Herman Bennett | October 8, 2020 
This event has passed.  Please view a recording of Dr. Bennett's lecture below.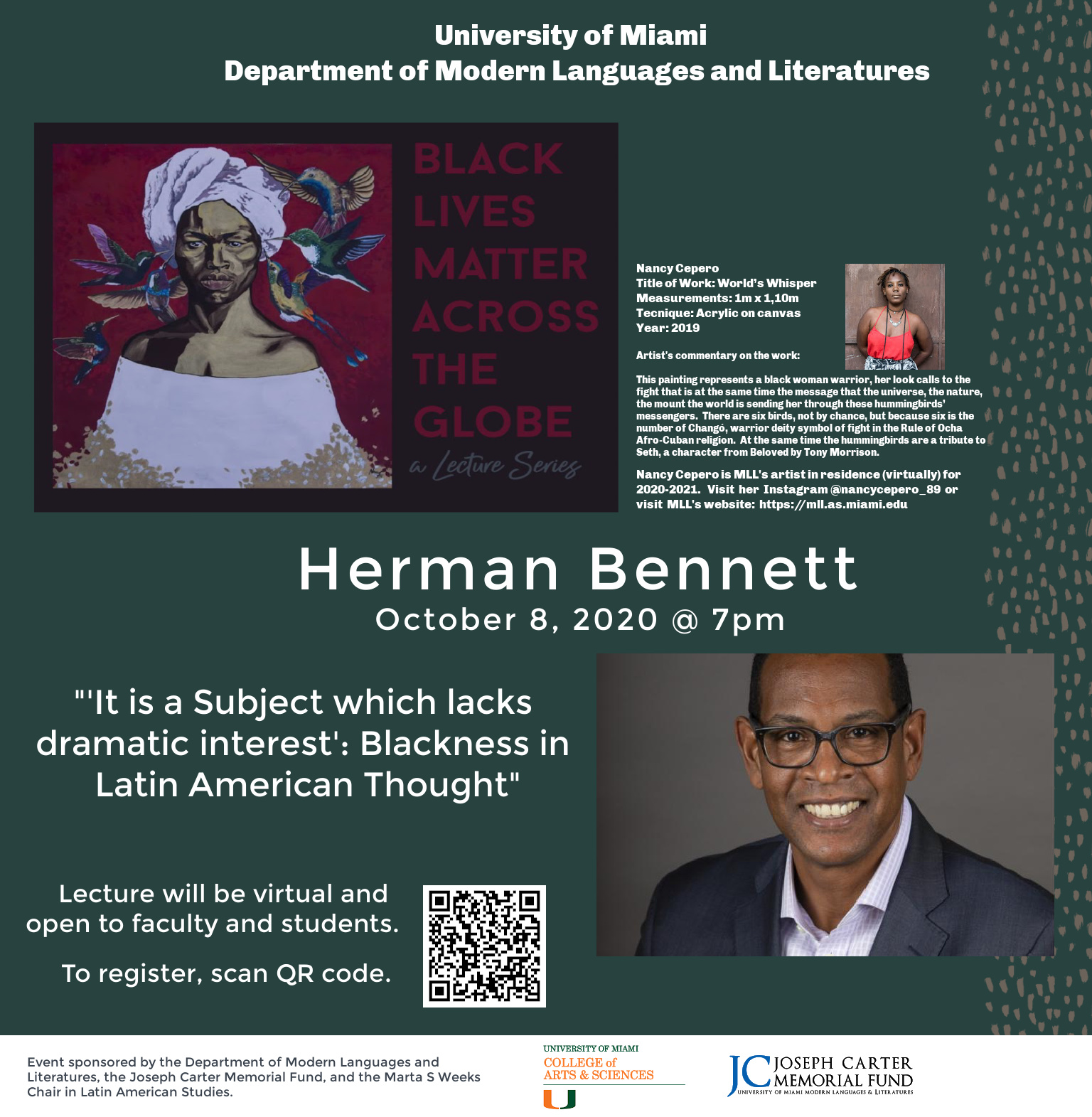 Lecture will be held on Zoom.