Roundtable Black Lives Matter Across the Globe | April 16, 2021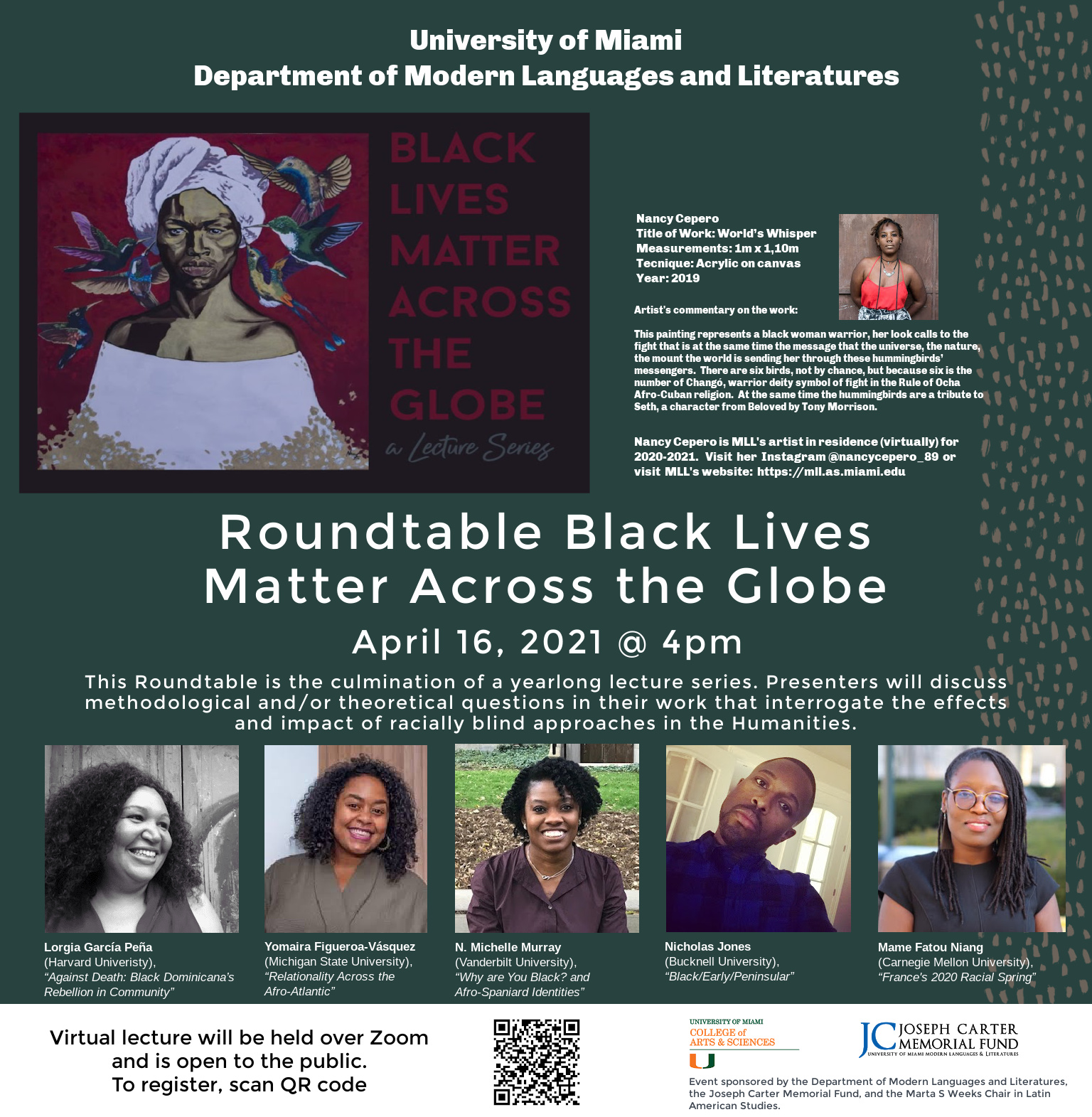 This Roundtable is the culmination of a yearlong lecture series.  Presenters will discuss methodological and/ or theoretical questions in their work that interrogate the effects and impact of racially blind approaches in the Humanities.  The Roundtable Presenters include:
Lorgia García Peña (Harvard University), "Against Death: Black Dominicana's Rebellion in Community"
Lorgia García Peña is a first-generation Latinx Studies scholar, an immigrant from the Dominican Republic and an Afro-Latina from Trenton, NJ. She studies Blackness, colonialism, migration and diaspora with a special focus on dominicanidades. Dr. García Peña is the author of The Borders of Dominicanidad: Race, Nations and Archives of Contradictions (Duke University Press, 2016) which won the 2017 National Women's Studies Association Gloria E. Anzaldúa Book Prize, the 2016 LASA Latino/a Studies Book Award and the 2016 Isis Duarte Book Prize in Haiti and Dominican Studies. She is currently working on book two projects, Translating Blackness (Duke University Press, 2022) and Community as Rebellion (Haymarket, 2022). García Peña is the co-founder of Freedom University Georgia, a school that provides college-level instruction to undocumented students and the co-director of Archives of Justice (Milan-Boston-Santo Domingo), a transnational digital humanities project that centers the lives of migrant Black women.
Yomaira Figueroa -Vásquez (Michigan State University), "Relationality Across the Afro-Atlantic"
Yomaira C. Figueroa-Vásquez is an Afro-Puerto Rican writer, teacher and organizer. She is Associate Professor of Afro-Diaspora Studies at Michigan State University and the author of Decolonizing Diasporas: Radical Mappings of Afro-Atlantic Literature. Her published work can be found in Hypatia: A Journal of Feminist Philosophy, the Journal of Decolonization, CENTRO Journal, Small Axe, Frontiers Journal, Hispanofilia, Post45, and SX Salon. She is a founder of the MSU Womxn of Color Initiative,  #ProyectoPalabrasPR, and Taller Electric Marronage.  
N. Michelle Murray (Vanderbilt University), "Why are You Black? and Afro-Spaniard Identities"
N. Michelle Murray's research and teaching focus on contemporary Spanish literature and film. Her first book Home Away from Home Immigrant Narratives, Domesticity, and Coloniality in Contemporary Spanish Culture (UNC Press for North Carolina Studies in Romance Languages and Literatures, 2018) studies representations of immigrant women as domestic workers in contemporary Spain. She has published articles in in Research in African Literatures, Symposium, Letras Femeninas, Studies in Spanish and Latin American Cinemas, Crossings: Journal of Migration and Culture, and Revista 452oF. She has contributed essays to many edited volumes, most recently Liquid Borders (Routledge, 2021) and Flesh, and Stone: The Matter of Death in Modern Spain (Vanderbilt U Press, 2021). She is co-editor of the volume Unsettling Colonialism: Gender and Race in the Global Nineteenth-Century Hispanic World (SUNY, 2019). She is currently working on a manuscript entitled Migrant Markets; this book explores migration, political economy, and trafficking in the Southern Mediterranean.
Nicholas Jones (Bucknell University), "Black/ Early/ Peninsular"
Nicholas R. Jones's research agenda explores the agency, subjectivity, and performance of black diasporic identities in early modern Iberia and the Ibero-Atlantic world. He is the author of the award-winning Staging Habla de Negros: Radical Performances of the African Diaspora in Early Modern Spain (Penn State University Press, May 2019 **Winner of the 30th Katherine Singer Kovacs Prize from the Modern Language Association (2020) & Winner of the Outstanding First Book Prize from the Association for the Study of the Worldwide African Diaspora (2020)**. Jones is co-editor of Early Modern Black Diaspora Studies: A Critical Anthology (Palgrave, December 2018) with Cassander L. Smith and Miles P. Grier and Pornographic Sensibilities: Imagining Sex and the Visceral in Premodern and Early Modern Spanish Cultural Production (Routledge, January 2021) with Chad Leahy. Jones also is co-editor of the Routledge Critical Junctures in Global Early Modernities book series with Derrick Higginbotham and is the new Editor-in-Chief of Caribbeana: The Journal of the Early Caribbean Society.
Mame Fatou Niang (Carnegie Mellon University), "France's 2020 Racial Spring" 
Dr. Niang is an Associate Professor of French and Francophone Studies at Carnegie Mellon University and the author ofIdentités Françaises (Brill, 2019). Her recent research examines the development of Afro-French identities. Mame is also a photographer and the co-author of a photo series on Black French Islam. In 2015, she co-directed "Mariannes Noires: Mosaïques Afropéennes", a film in which seven Afro-French women investigate the pieces of their mosaic identities, and unravel what it means to be Black and French, Black in France. Dr. Niang is currently working on a second manuscript tentatively titled Mosaica Nigra: Blackness in 21st-century France.
This event has passed.  Please view a recording of the Roundtable lecture below.
 
---
Casey | April 5, 2021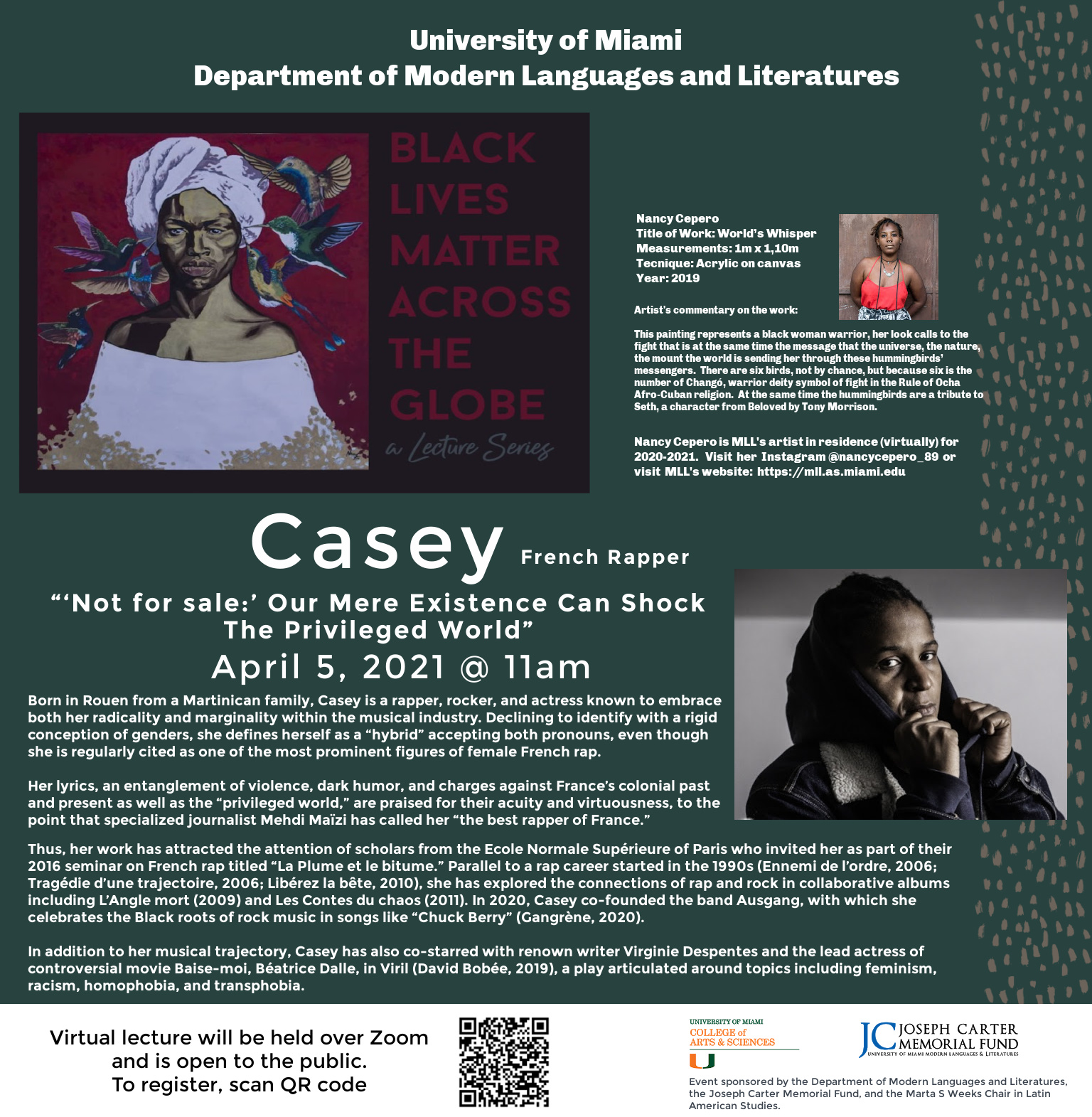 Born in Rouen from a Martinican family, Casey is a rapper, rocker, and actress known to embrace both her radicality and marginality within the musical industry. Declining to identify with a rigid conception of genders, she defines herself as a "hybrid" accepting both pronouns, even though she is regularly cited as one of the most prominent figures of female French rap.  

Her lyrics, an entanglement of violence, dark humor, and charges against France's colonial past and present as well as the "privileged world," are praised for their acuity and virtuousness, to the point that specialized journalist Mehdi Maïzi has called her "the best rapper of France." Thus, her work has attracted the attention of scholars from the Ecole Normale Supérieure of Paris who invited her as part of their 2016 seminar on French rap titled "La Plume et le bitume." Parallel to a rap career started in the 1990s (Ennemi de l'ordre, 2006; Tragédie d'une trajectoire, 2006; Libérez la bête, 2010), she has explored the connections of rap and rock in collaborative albums including L'Angle mort (2009) and Les Contes du chaos (2011). In 2020, Casey co-founded the band Ausgang, with which she celebrates the Black roots of rock music in songs like "Chuck Berry" (Gangrène, 2020). 

In addition to her musical trajectory, Casey has also co-starred with renown writer Virginie Despentes and the lead actress of controversial movie Baise-moi, Béatrice Dalle, in Viril (David Bobée, 2019), a play articulated around topics including feminism, racism, homophobia, and transphobia.
This event has passed.
---
Maboula Soumahoro | February 19, 2021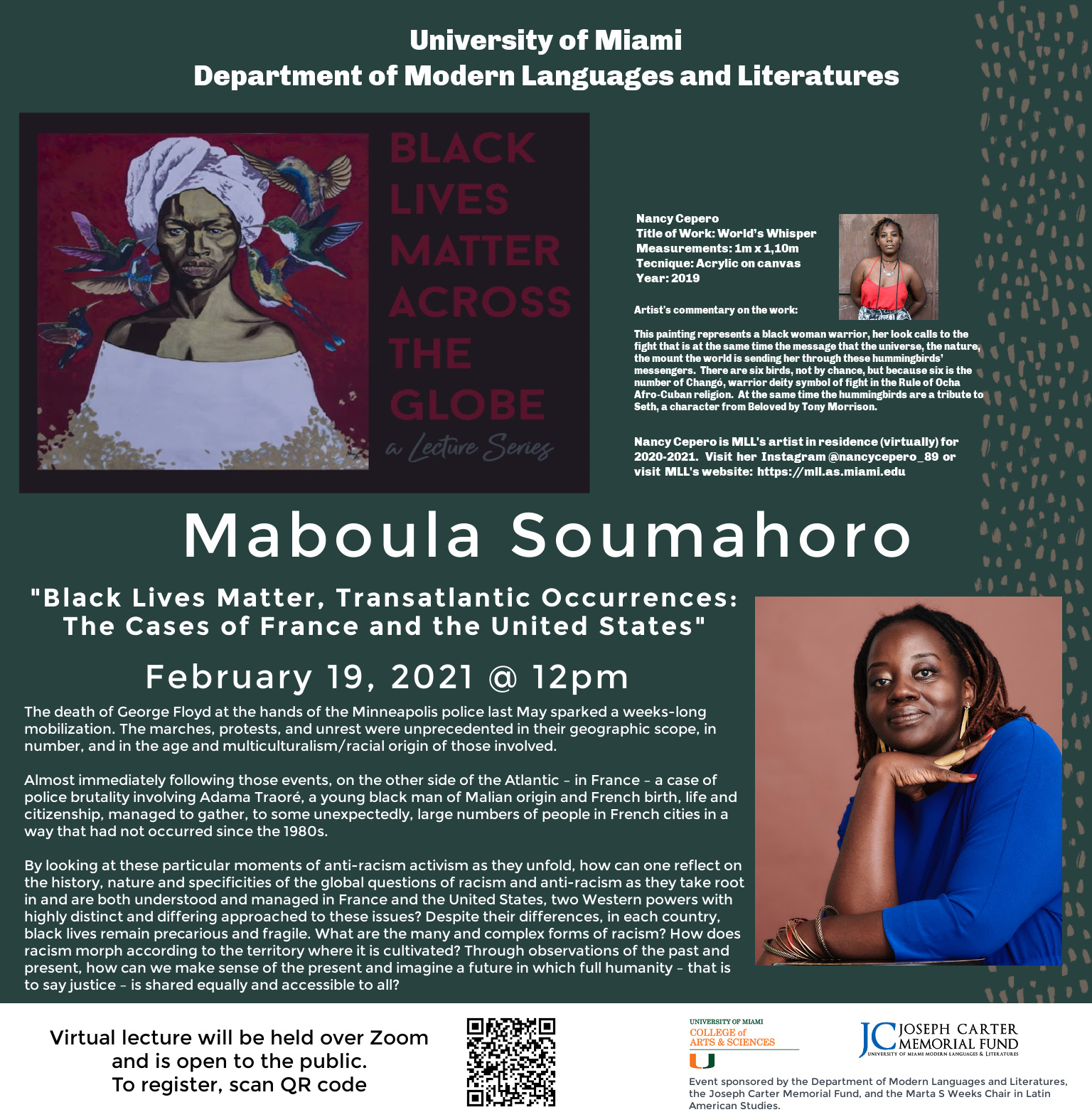 Dr. Maboula Soumahoro is an associate professor in the English department of the University of Tours, France, where she also received her PhD. A specialist in the field of Africana Studies (Atlantic), Dr. Soumahoro has conducted research and taught in several universities and prisons in the United States and France: Bennington College, Columbia University (New York and Paris), Barnard College, Bard Prison Initiative (Bayview Correctional Facility), Stanford University (Paris), Sciences Po (Paris and Reims), the prisons in Bois-d'Arcy, Villepinte (juvenile detention), and Fresnes.

From 2013 to 2017, Dr. Soumahoro served as a member of the National Committee for the Memory and History of Slavery. Since 2013, she is also the president of the Black History Month (BHM), an organization dedicated to the celebration of Black history and cultures throughout the world.

Dr. Soumahoro was awarded the FETKANN! Literary Prize for her book Le Triangle et l'Hexagone, réflexions sur une identité noire (Black is the Journey, Africana the Name, La Découverte, 2020).
This event has passed.  Please view a recording of Dr. Soumahoro's lecture below.  
---
Conceição Evaristo | November 13, 2020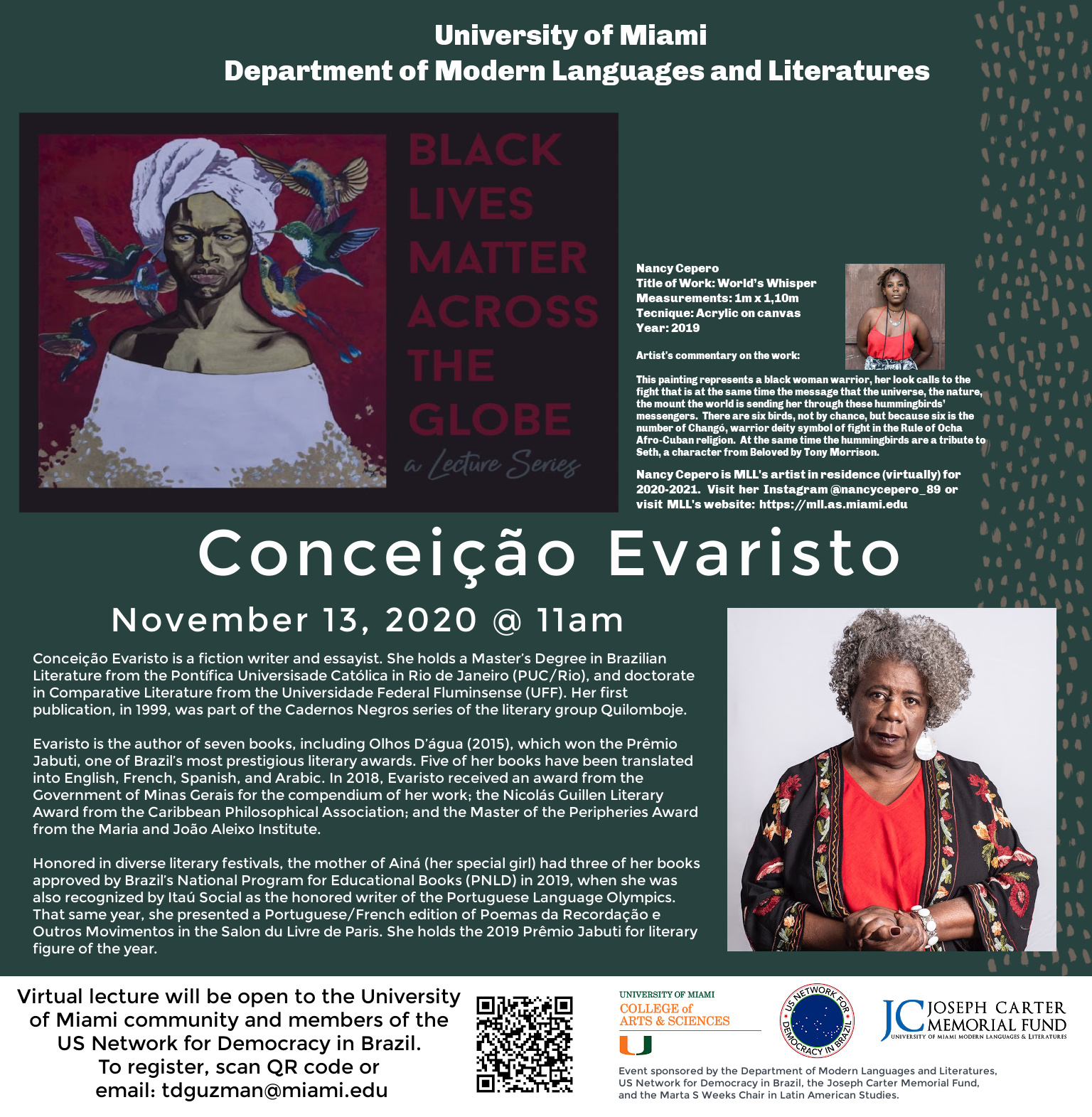 Conceição Evaristo is a fiction writer and essayist. She holds a Master's Degree in Brazilian Literature from the Pontífica Universisade Católica in Rio de Janeiro (PUC/Rio), and doctorate in Comparative Literature from the Universidade Federal Fluminsense (UFF). Her first publication, in 1999, was part of the Cadernos Negros series of the literary group Quilomboje.

Evaristo is the author of seven books, including Olhos D'água (2015), which won the Prêmio Jabuti, one of Brazil's most prestigious literary awards. Five of her books have been translated into English, French, Spanish, and Arabic. In 2018, Evaristo received an award from the Government of Minas Gerais for the compendium of her work; the ­­­­Nicolás Guillen Literary Award from the Caribbean Philosophical Association; and the Master of the Peripheries Award from the Maria and João Aleixo Institute. 

Honored in diverse literary festivals, the mother of Ainá (her special girl) had three of her books approved by Brazil's National Program for Educational Books (PNLD) in 2019, when she was also recognized by Itaú Social as the honored writer of the Portuguese Language Olympics. That same year, she presented a Portuguese/French edition of Poemas da Recordação e Outros Movimentos in the Salon du Livre de Paris. She holds the 2019 Prêmio Jabuti for literary figure of the year.     
This event has passed.


---
Dr. Herman Bennett | October 8, 2020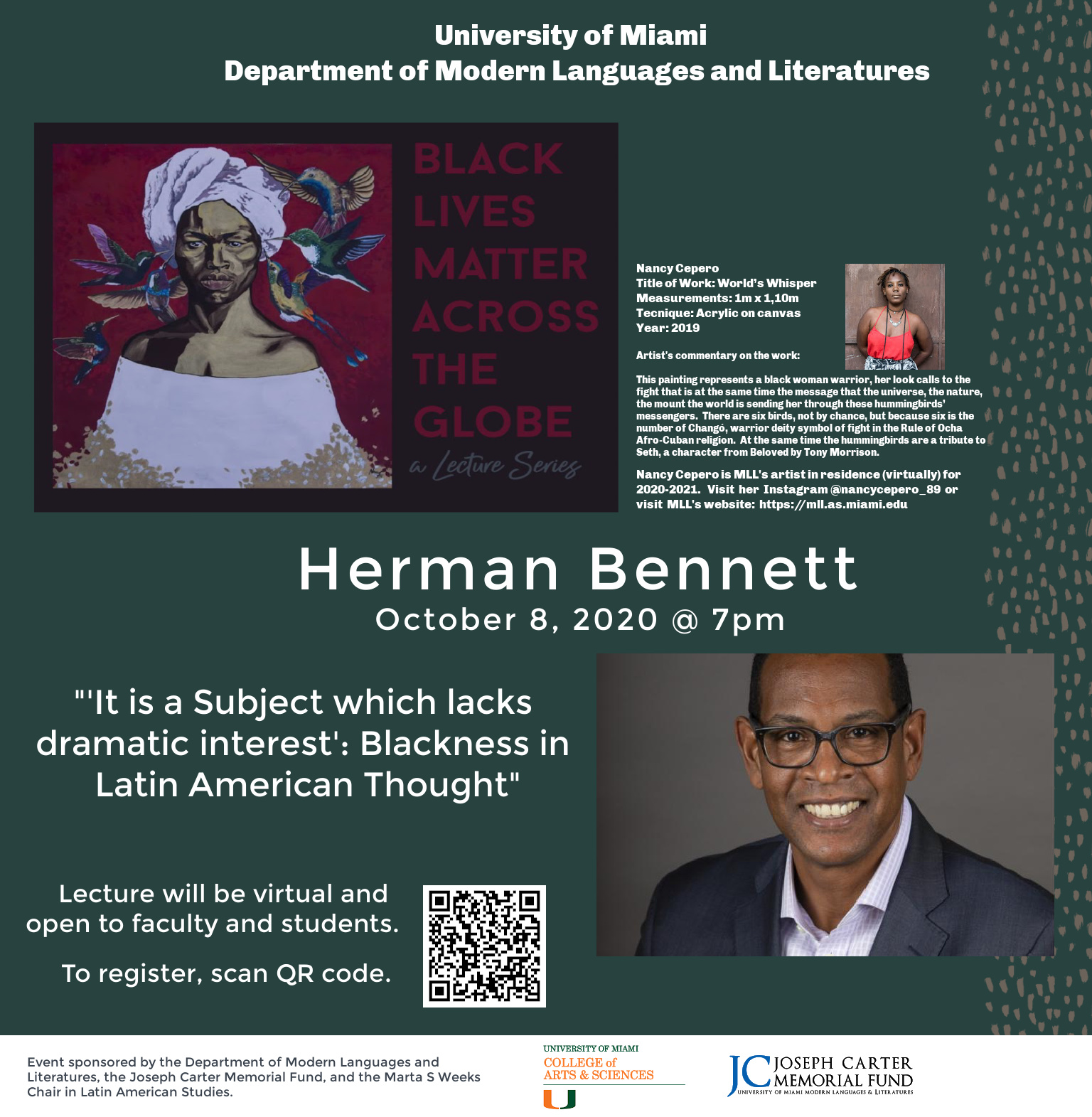 This event has passed.  Please view a recording of Dr. Bennett's lecture below.