LANDS OF FREEDOM?
Oppressions, Subversions and Pursuits of Justice in a Changing World

Keynote Speaker
JAVIER SICILIA
Activist, Poet & Novelist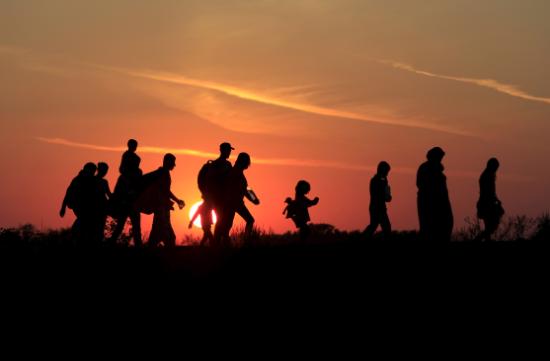 ‌‌
‌February 9, 2018
Shalala Student Center Complex - Activities Room
University of Miami
---
Registration
The MLL Annual Gradaute Conference is open and free to all members of the University of Miami and the general public.
Please register online by Friday, February 2, 2018.
---
Program
9:00AM
Registration and Coffee
9:30AM
Welcoming Remarks
Carlo B. Zepeda, Organizing Graduate Student Committee,
Lillian Manzor, Associate Professor & Chair
10:00-11:30AM
Panel I - Oppressions
Moderator: Dainerys Machado Vento, Organizing Graduate Student Committee
Discussant: Christina Civantos, Associate Professor & Associate Chair

Karim Nait Ouslimane, Université Paris 13
"Altérité, la fabrique de la violence? Perspectives et limites de la déconstruction des Grands Récits Historiques"

Elena Sada, University of Connecticut
"The Silent Wars of the Abandoned
A Solution to the Complex Situation of Institutionalized Mexican Children"
(Click here for paper: Elena Sacada)

Evelyne Nonga, Paris IV – Sorbonne University
"Female genital mutilation between perpetuation of tradition and human dignity violation. A sociocritical reading of Rebelle by Fatou Keita"
(Click here for paper: Evelyne Nonga)
11:30 AM

Break
12:00-1:30PM
Keynote Speaker
Javier Sicilia
Activist, Poet & Novelist‌

Introduction by Tracy Devine Guzmán, Associate Professor & Director of Graduate Studies

Keynote Introduction by University of Miami President Dr. Julio Frenk

Q&A moderated by Dr. Felicia Knaul
Director, University of Miami Institute for Advanced Study of the Americas
1:30-2:30PM
Lunch (on site for all registered participants)
2:30-4:00PM
Panel II - Subversions
Moderator: Lidiana de Moraes, Organizing Graduate Student Committee
Discussant: Steven Butterman, Associate Professor

Felipe G. A. Moreira, University of Miami
"From the Modernist to the Metamodernist Resistance"
(Click here to paper: Felipe Moreira)

Amandine Guyot, Université Paris 13
"Entre espaces de conflits et zones de contact: les mécanismes de l'identité dans Les désorientés et Les identitiés meurtrières d'Amin Maalouf."

Analyse Kimpolo, Université Paris Sorbonne
"Entre violence politique et subversion: poétique de la résistance dans le roman francophone postcolonial"
(Click here for paper: Analyse Kimpolo)
4:00-5:30PM
Panel III - Pursuits of Justice
Moderator: Nicholas Sheets, Organzing Graduate Student Committee
Discussant: George Yudice, Professor, Modern Languages & Literatures

Beatriz Carlota Rodriguez, Arizona State University
"'Agua': derecho de vida a través del pensamiento indigena y el problema global del medio ambiente."
(Click here for paper: Beatriz Rodriguez)

John Ermer, Florida International University
Cartas Orientales: Letter Writing and Legal Experimentation in Santiago de Cuba, 1801-1809
(Click here for paper: John Ermer‌)
5:30PM
Closing Remarks & Wine and Cheese Reception
Olivier Salès, Organizing Graduate Student Committee
---
PHOTOS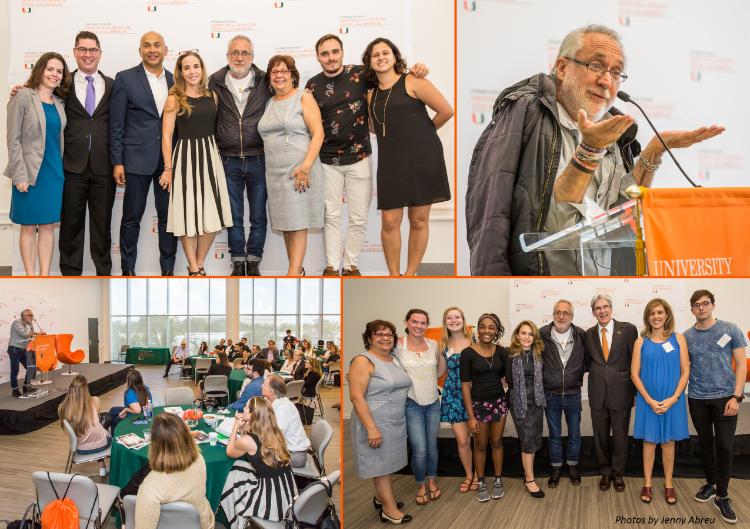 Click here to view photos from the Keynote Speaker.
Click here to view photos from the conference.
---
Map & Directions
All conference sessions will take place at the Shalala Student Center Comples - Activities Room, 1330 Miller Drive, Coral Gables, FL 33146.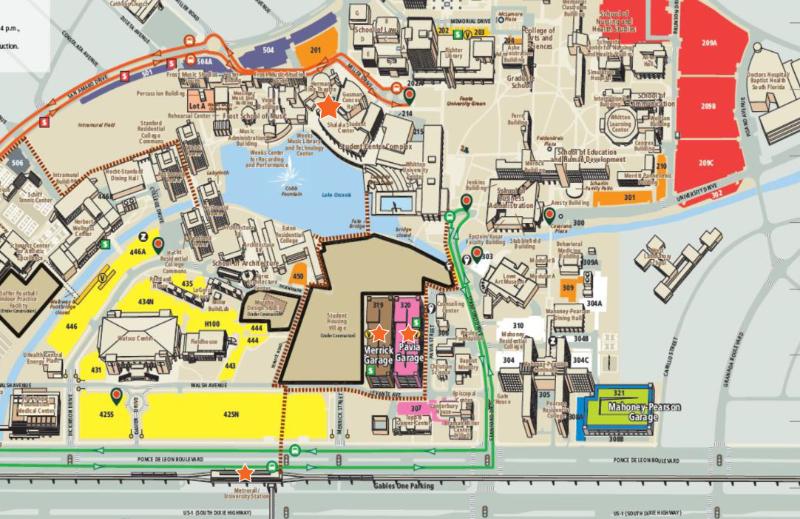 ‌‌‌‌‌‌‌
Getting to Campus from Metrorail:
Metrorail is the most affordable choice for getting to and from campus. A one-way ticket costs $2.25. For more Metrorail information, go to www.miamidade.gov/transit/metrorail.asp.

Depending on where your hotel is located, you will either take the Metrorail Orange Line or Metrotrail Green Line to University Metrorail station for the UM Coral Gables Campus.  From University Station, you can take the Hurry-Cane Shuttle to Stanford Circle (on campus) and walk to the Shalala Student Center, past the Whitten Community Center and Food Court.

Driving Directions to campus:  Click on link for driving and parking information:
http://pt.ref.miami.edu/campus-parking/visitors/index.html
Parking on campus: 
Metered public parking may occasionally be found on Stanford Drive.  It is best to park at the Pavia & Merrick Garages (enter through Stanford Drive and ask directions to garage at the gatehouse).  The Pavia & Merrick Garages have a dedicated visitor parking area (see attendant for assistance). Passes are available via cash and credit card (Visa & MasterCard). 24-hour parking is $8.00. ‌‌
---
Sponsored by the University of Miami Department of Modern Languages & Literatures' Joseph Carter Memorial Fund and the University of Miami Institute for Advanced Study of the Americas