TRANSNATIONAL FUTURES:
(Re)Imagining Diaspora, Borders Politics

Keynote Speaker
JOHN KEENE
Chair, Department of African American Studies, Rutgers University Newark
2018 Recipient of MacArthur Fellowship
Author of Counternarratives (2015)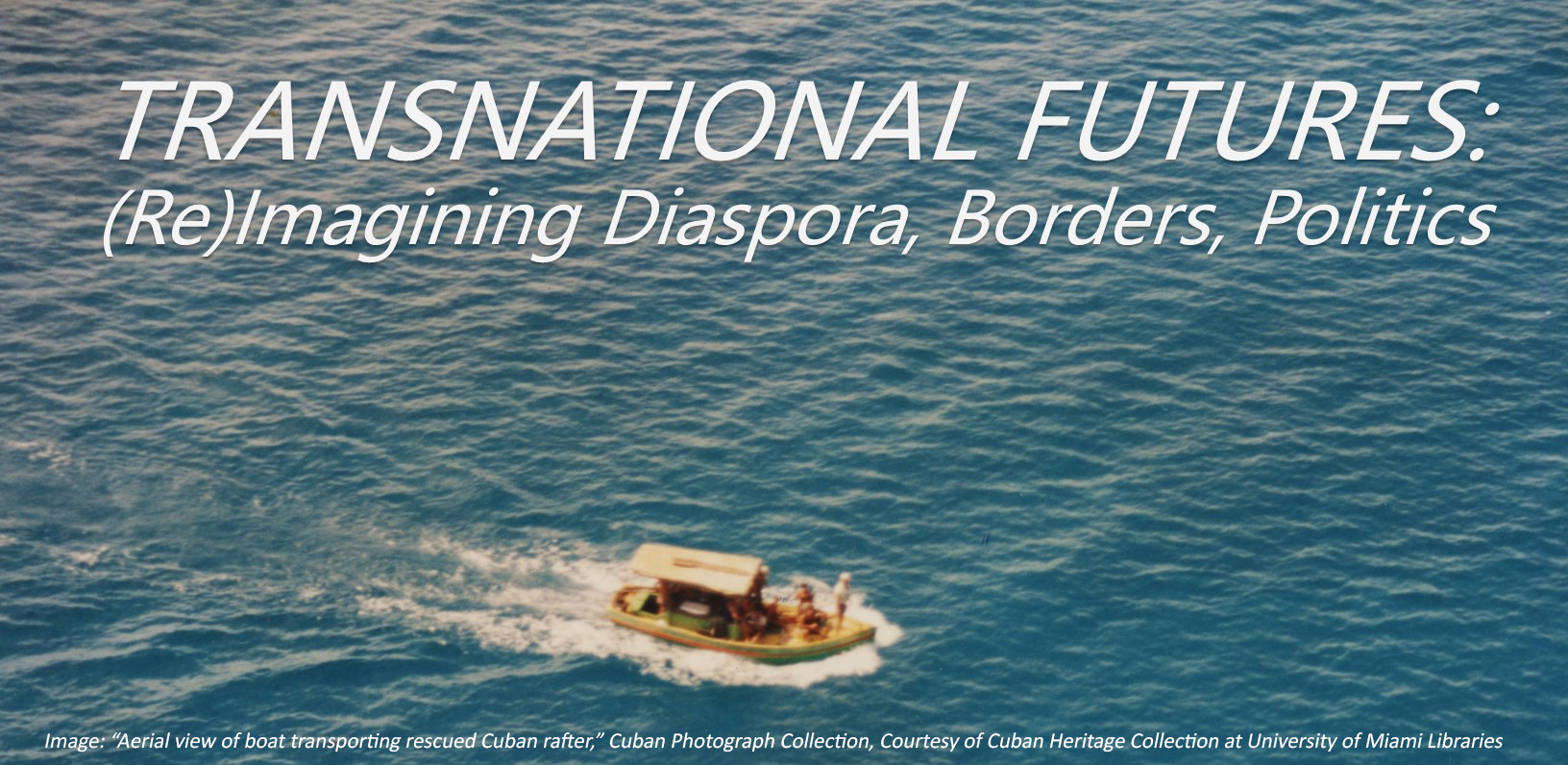 ‌‌
‌February 22, 2019
MLL Conference Room (Merrick Building 210-01)
University of Miami
---
The conference aims to foster discussion about how the cross-border movement of people, information, and products questions stable categories of identity and identification as they relate to nationhood, race, ethnicity, gender, and/or sexuality. In this age of resurgent nationalisms, how dobquestions of futurity, borderlands, language, justice, and translation impact the development and practice of critical consciousness, political protagonism, and diverse forms of cultural production?
---
Registration
The MLL Annual Gradaute Conference is open and free to all members of the University of Miami and the general public.
Please register online by Friday, February 15, 2019.
---
Program
8:30AM
Registration and Coffee
9:00AM
Welcoming Remarks
9:30-10:50AM

Panel I -Caribbean Lifelines
Chair: Samuel Johnson
Discussasnt: Dr. George Yúdice

Miguel Antony Vásquez, University of Miami
"Borders of Healing: An Ecocritical Lens on Afro-Spirituality in Puerto Rico, Post-Maria"

Carmen Duarte, Florida Atlantic University
"El Caribe 'replantado' en los Estados Unidos: Espacio geográfico en Botánica de Dolores Prida"

Tohru Nakamura, University of the West Indies
"Myth of Creation or Relation: Possibilities of Relational Community in George Lamming's Of Age and Innocence"

10:50-11:10 AM

Break
11:30-12:30PM
Keynote Speaker


John Keene


Chair, Department of African American Studies, Rutgers University Newark
2018 Recipient of MacArthur Fellowship
Author of Counternarratives (2015)
12:30-1:30PM
Lunch (on site for all registered participants)
1:30-2:50PM

Panel II -Identity and Cultural Memory
Chair: Jordan Rogers
Discussant: Dr. Steven Butterman

Raymond K. Awadzi, Florida International University
"Vodoo Reinforcement: Transnational and Transcultural Connection between West Africa and the African Diaspora" 

Gustavo de Oliveira Bicalho, Universidade Federal de Minas Gerais
"Baquaqua e Equiano: biografias corais por uma genealogia da subjetividade no Atlântico Negro"

David Dayton, Florida International University
"Expats and Chineseness" 

2:50-3:10PM
Break
3:10-4:30PM

Panel III -Borders, Movement, and Subjectivity
Chair: Ruming Yang
Discussant: Dr Gema Peréz-Sánchez

Claudia Batistel, Florida International University
"Pensamiento fronterizo y subjetividad plural en El último patriarca de Najat El Hachmi" 

Juan Antonio Godoy Peñas, Florida International University
"Sujetos nómadas, sujetos sin tierra: María Casares, una niña de la guerra" 

Preston Taylor Stone, University of Miami
"Refugee-As-Ghost: Metaphorizing Trauma and Borders in Viet Thanh Nguyen's Fiction"

4:30-6:00PM
Closing Remarks & Wine and Cheese Reception
---
This event is sponsored by the Department of Modern Languages & Literatures Joseph Carter Memorial Fund and Africana Studies