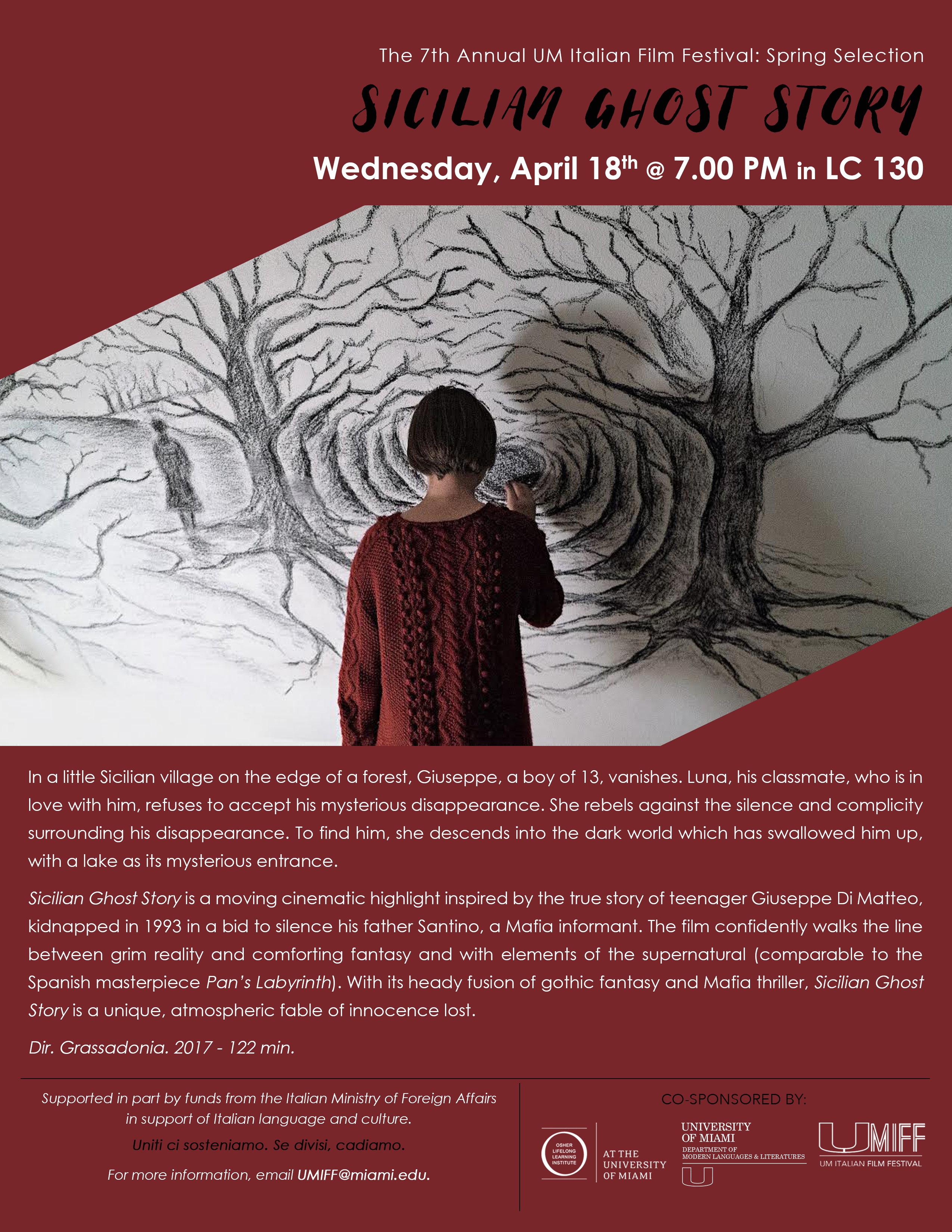 ‌‌‌ 

The Startup - Tuesday, January 23
"Matteo is 18 years old and he has an idea that is worth millions..."

The Startup, directed by Alessandro D'Alatri tells a true story, that of a young Italian Mark Zuckerberg (the definition given by the BBC) who five years ago created a platform to help young people to find work. His name is Matteo Achilli, and the name of his company is Egomnia.

Screening will be followed by a Q&A with Matteo Achilli.

Directed by Alessandro D'Alatri, 2017
---
Moglie & Marito - Wednesday, February 7
Italian superstars Pierfrancesco Favino (The Confessions, Marco Polo) and Kasia Smutniak (Perfect Strangers) sizzle on screen together in this wonderfully funny and new take on the body-swap comedy formula, using a surreal premise as a means to deliver this wholeheartedly grounded and relatable exploration of modern love.
An incredible experiment somehow places Andrea, a brilliant neurosurgeon, and his wife Sofia, an ambitious TV host, in each other's bodies. Forced to walk in their partner's shoes— literally— and perform their everyday routines as if all were normal, this workaholic couple on the brink of separating get the chance to see life in a fresh pair of eyes— again, literally— finally confronting the root of all the dilemmas that are causing their marriage to slowly disintegrate.
Directed by Godano, 2017
---
Il Ministro - Wednesday, February 21
Franco Lucci is a businessman without scruples who is facing bankruptcy and now is desperate for a solution. His salvation now depends on securing a big public contract that he could probably get… if he manages to somehow "convince" a politician to help him. But, how exactly do you corrupt a minister?
Drugs, sex, and money, all washed down with the best wine around and a good cynical dose of complacence!
These are the essential ingredients of a perfect evening gone horribly awry in this cutthroat black comedy directed by Giorgio Amato.  A film claiming to be "based on events that probably happened", Il ministro tells a story where corruption becomes currency and where all characters eventually show their true selves in this waltz of madness and small-mindedness that in the end spares no one.
Directed by Amato, 2016
---
Indivisibili - Wednesday, March 7
Identical twins Dasy and Viola appear to have it all: they're beautiful and gifted with captivating singing voices. They also happen to be conjoined at the hip, which is shamelessly exploited by their parents and close friends for money in the suburbs of Naples. Their lives turn upside-down when Dasy falls in love and they discover that they can be separated. Balancing the beautiful and the perverse with poise and featuring a beguiling soundtrack by Enzo Avitabile, Edoardo De Angelis' new feature is a moving, eccentric fable about the pains of growing up.

Directed by De Angelis, 2016
---
Chiamami col tuo nome - Wednesday, March 21
In 1983, gifted 17-year-old Elio Perlman spends his days in northern Italy transcribing classical music and reading. His close relationships with his father and mother give him the fruits of high culture in a setting overflowing with natural delights. Although Elio's sophistication suggests he is already a mature adult, he is still innocent when it comes to matters of the heart. When charming American scholar Oliver (Armie Hammer) arrives as the annual summer intern tasked with helping Elio's father, Elio and Oliver discover a passionate and awakening desire in the blossoming of a young and new love. Based on the acclaimed novel by André Aciman, this new film by director Luca Guadagnino (I am Love, A Bigger Splash) tells a transcendent tale of first love.

Directed by Guadagnino, 201
---
Hotel Splendid - Wednesday, March 28
With a Q&A to follow with director Mauro Bucci

Hotel Splendid is an unprecedented glimpse into the daily experiences and operation of an Italian hotel inhabited by refugees. The documentary was completed following 12 months' of fieldwork into the camp. The film recounts the asylum seekers' dramatic voyage to reach Europe, marked by acts of violence and abuse, and their paths from their arrival at the reception center until the interview with the commission that will decide on their asylum applications. Through migrants' personal accounts and experiences in Italy, the film depicts a multifaceted social reality, where tragic pasts coexist with moments of daily joy at the hotel Splendid.

Directed by Bucci, 2016
---
La Ragazza Nella Nebboa - Wednesday, April 4
With over three million copies of his novels sold worldwide, Donato Carrisi, one of the most beloved thriller authors in Italy, has launched his directorial debut with an adaptation of his latest best-selling novel of the same name.

The Girl in the Fog narrates the events surrounding the disappearance of a sixteen-year old girl named Anna Lou. Toni Servillo (La grande bellezza, Il divo, Le confessioni) stars as Special Agent Vogel, investigating the case with his peculiar methods: not solving cases by gathering clues and evidence like a typical detective, but rather focusing on media coverage to solve them, hoping the attention that the attention brought on by the media will help smoke out the true killer… or at least help identify a possible culprit, no matter if he— or she— is guilty. Irrespective of his questionable philosophy, he relies on the notion that every community needs to put a face to evil, regardless of the overall cost.

A visual masterpiece with a niche genre that we at the University of Miami will officially "baptize" it as Alpine Noir, La ragazza nella nebbia will undoubtedly entice you with its Fargo-like glamour all'italiana.

Directed by Carrisi, 2017
---
Come Diventare Grandi Nonostante I Genitori - Friday, April 13 at 4:30PM in LC 170

---
Sicilian Ghost Story - Wednesday, April 18
In a little Sicilian village on the edge of a forest, Giuseppe, a boy of 13, vanishes. Luna, his classmate, who is in love with him, refuses to accept his mysterious disappearance. She rebels against the silence and complicity surrounding his disappearance. To find him, she descends into the dark world which has swallowed him up, with a lake as its mysterious entrance.

Sicilian Ghost Story is a moving cinematic highlight inspired by the true story of teenager Giuseppe Di Matteo, kidnapped in 1993 in a bid to silence his father Santino, a Mafia informant. The film confidently walks the line between grim reality and comforting fantasy and with elements of the supernatural (comparable to the Spanish masterpiece Pan's Labyrinth). With its heady fusion of gothic fantasy and Mafia thriller, Sicilian Ghost Story is a unique, atmospheric fable of innocence lost.

Directed by Grassadonia, 2017
---
All films will be shown at 7PM in Whitten Learning Center 130 and with English subtitles.